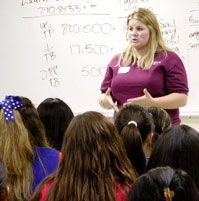 The goal of the Peer Prevention Programs is to deliver abstinence-based pregnancy prevention programs to youth in order to delay sexual activity, thus reducing the number of teen births.
Peer Prevention is delivered by qualified Health and Peer Educators to junior high and high school students throughout DuPage area schools. In addition, Peer Prevention is presented to community groups including churches and clubs. During classroom presentations, Health Educators engage students in activities and educate in a nonjudgmental manner while focusing on prevention of pregnancy, sexually transmitted infections (STIs), and HIV/AIDS.  Peer Educators (who are adolescent parents) are trained to share a prevention-focused story of the health, social, emotional, and financial consequences they have personally experienced since becoming a teen parent.
Last school year, nearly 14,000 students participated in the Teen Parent Connection Prevention Program.
2012-2013 evaluation results show that after participating in the Peer Prevention Program:
100% of teachers would recommend the Peer Prevention Program to other teachers.
98% of students would recommend the Peer Prevention Program for other students.
98% of students agreed that the presentation made them more aware of the consequences of teen pregnancy.
96% of students agreed that the Peer Prevention Program taught ways to lower risk for unplanned pregnancy.
100% of surveyed students agreed or strongly agreed that Teen Parent Connection's Health and Peer Educators taught them how teen pregnancy could change a teen's life and future goals
AWARE (Adolescents With Awareness, Resources, and Education) is a comprehensive prevention program designed to provide eighth grade students with the information and resources they need to face tough relationship issues. The AWARE Program involves three collaborative agencies: Teen Parent Connection, theRobertCrownCenter for Health Education, andYWCAWestSuburbanCenter. AWARE begins with a Parent Night Workshop, followed by four days of classroom-based student workshops. Student workshop topics include teen pregnancy prevention and healthy decision-making (Teen Parent Connection), sexually transmitted infection prevention (RobertCrownCenter), and dating violence/sexual assault prevention (YWCA).
HIP (Health Impact Project) is a comprehensive prevention program designed to provide intensive pregnancy and sexually transmitted disease prevention education to at-risk youth in order to reduce unsafe behaviors and related adverse health outcomes. This multiple session program is delivered over eight class periods.
Family Planning Education is delivered to Teen Parent Connection Group participants and consists of three prevention units targeting issues surrounding reproductive health promotion: Subsequent Pregnancy Prevention/Contraceptive Education, STI/HIV Prevention, and Contraceptive and Testing Access.
For information on teen health, teen pregnancy prevention, and abstinence or to schedule Teen Parent Connection's Prevention Program, please email Elizabeth Witman or call (630) 790-8433 Ext. 226.