A COMMUNITY OF NONJUDGEMENTAL SUPPORT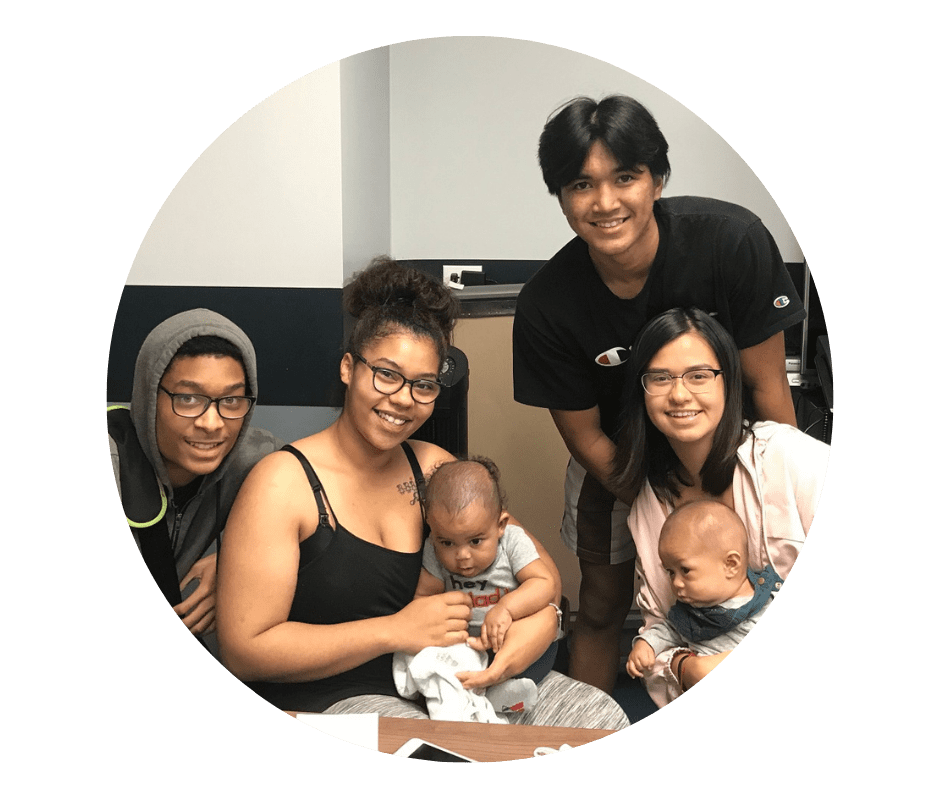 Teen parents often feel isolated and alone, not knowing where to go for support. Our parent groups meet weekly at sites throughout the community, and provide a safe space where young moms and dads can find non-judgmental support with their peers.
"As a new parent, I didn't know much about babies. But going to group helped me improve my parenting skills and taught me how to take care of my daughter. It helps talking to other parents like me who know what I'm going through." – Young Parent Group Participant
Teen Parent Connection's Group Services Program allows you to find commonality, strength and encouragement to help you meet the demands of parenthood. Plus, these services are yours completely free of charge! Our groups are specifically designed to answer your questions and concerns. Discussions are based on your needs, whether personal, social, legal, or practical.
AS A NEW PARENT, YOU MAY ASK YOURSELF:
How can I best care for my child?
What do I need to know to raise a healthy baby?
What kind of immunizations will my baby need?
How do I get help with child support?
How can I find affordable childcare?
What rights do I have as a father?
YOU MAY EVEN BE FEELING:
Isolated from your friends
Anxious about your new parenting journey
Excited to watch your baby grow
Scared about what to expect
WE CAN HELP YOU PREPARE
Our Group Services Program uses a variety of curricula and materials, including Child Development and Basic Care, Nutrition, Job Readiness, School Completion, Healthy Relationships and much more to encourage a complete support group experience. Our Parent Group Facilitators are well educated and extensively trained to be your reputable source for resources and information.
OUR GROUP SERVICES PROGRAMS INCLUDE THE FOLLOWING:
(click links below for dates/locations)
Childbirth Education Classes
Open to pregnant adolescents, ages 12-22.
Postpartum Support Group
Open to parents with an infant 12 months or younger. This four-week group was designed to provide participants with an opportunity to gather with other parents who are adjusting to life with a new baby. Postpartum Support Group allows both New Moms and New Dads to share their experiences with childbirth and parenting while learning more about their growing infant! This group is designed for parents with an infant 12 months old and younger. Dads will have the opportunity to have break-out sessions with a male facilitator to discuss their experiences with fatherhood. Topics covered include:
Processing birth experiences
Common feeding challenges and support
Child development and bonding activities
Mental health education, support, and self-care.
Young Families & Young Dads
Open to pregnant or parenting adolescents, ages 12-22. At weekly evening meetings, you will enjoy a free meal and meet others who share many of your experiences. We also include a wonderful time for your baby! Childcare Specialists run a safe, supervised nursery during Group time.
Feeding Support Group
Learning and sharing about breastfeeding, formula, pumping, baby-led weaning, picky eaters, and more.
For more information on how to get involved with Teen Parent Connection's groups, please email


[email protected]

or call (630) 790-8433.
*PLEASE NOTE* Teen Parent Connection only provides services in DuPage County, Illinois and surrounding areas; at this time we cannot provide resources out of state or service area.
MEET OUR GROUP PROGRAM MANAGER