GUIDANCE AND SUPPORT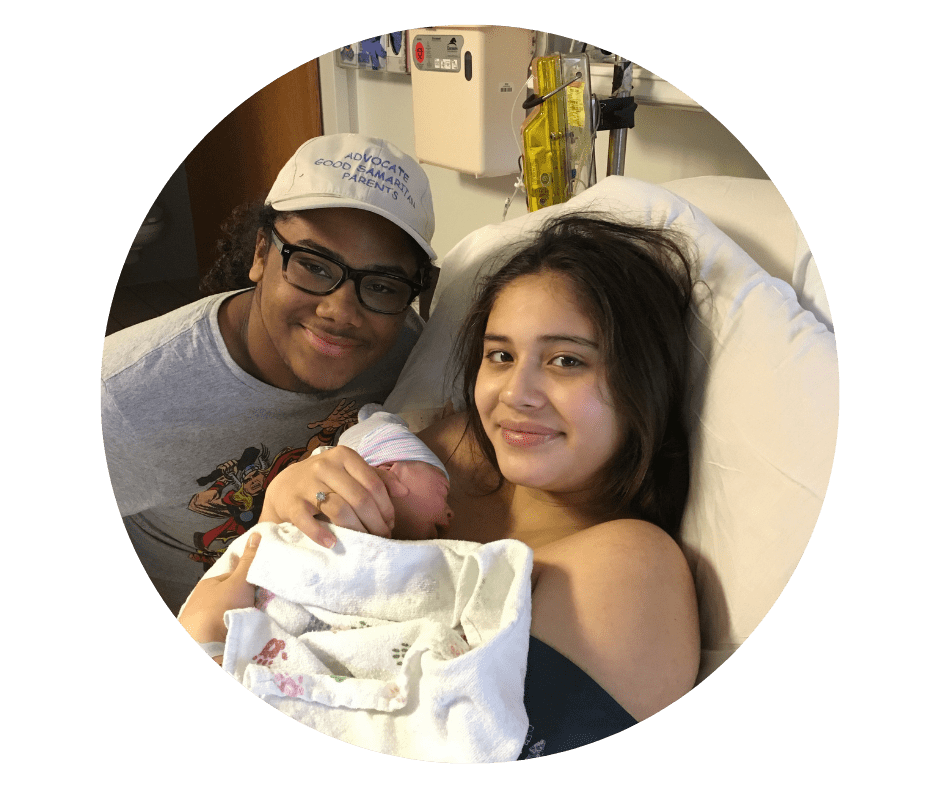 Our doulas are there to provide support to pregnant teens at a critical moment in their lives. Childbirth education classes, support groups, and home visits empower young parents with the knowledge and confidence to prepare them for their new role. The doula is there to provide reassurance, encouragement, and guidance during labor and delivery to help the young mother have the healthiest, most positive birth experience possible.
"I was clueless when I found out I was pregnant. Now I feel much more ready to become a mother and I have learned how to take care of myself and my baby. I am so thankful for the program because my doula has helped me so much!" – Doula Program Participant
OUR DOULA PROGRAM
At Teen Parent Connection, we recognize that parents-to-be need a lot of support and information during pregnancy, labor, and delivery. If you are a resident of DuPage County and under the age of 22, you may qualify for our Doula Program.
Doula services begin by participating in weekly home visits to help you learn more about your pregnancy, your health, and to help you prepare for labor and delivery. You and your Doula will work together to decide which pregnancy topics you would like to learn more about such as:
Fetal development
Prenatal health and wellness
Labor and delivery
Relaxation techniques
Newborn care
A Doula may also be present during the labor process, providing emotional support, information, and physical comfort measures while serving as an advocate for you. Teen Parent Connection recognizes that pregnancy, labor, and delivery is different for every family, therefore doulas are devoted to working with you to create a unique home-visiting experience to meet your needs. Teen Parent Connection services are always free of charge.
PRENATAL GROUP
Teen Parent Connection's Prenatal Groups are held in eight-week sessions and are facilitated by agency Doulas. The groups allow young parents to come together in a supportive environment to learn about their changing bodies, healthy prenatal lifestyles, and what to expect as they prepare to welcome a baby into their lives.
CHILDBIRTH EDUCATION CLASSES
Childbirth Education Class is a great way to learn about your pregnancy and meet other young parents-to-be in a safe and open environment. Our experienced staff will help you to stay healthy and comfortable during pregnancy and identify ways to care for yourself and your baby. Participants are encouraged to ask a lot of questions, and staff members are devoted to creating a safe and warm place to discuss parenting topics such as:
Health during pregnancy
How to recognize labor versus "false alarms"
What to expect during labor
Comfort measures
Birthing choices
Social and emotional support is important during pregnancy and parenting, and Childbirth Education Class offers you the opportunity to meet other parents-to-be that might share your concerns, questions, and goals. Classes are offered free of charge and are held in eight-week sessions.
If you are interested in receiving Doula services, enrolling in a Childbirth Education class, or joining Prenatal Group, contact us at

[email protected]

or call (630) 790-8433 Ext. 224
*PLEASE NOTE* Teen Parent Connection only provides services in DuPage County, Illinois and surrounding areas; at this time we cannot provide resources out of state or service area.
MEET OUR DOULAS