GIFTS OF GOODS OR SERVICES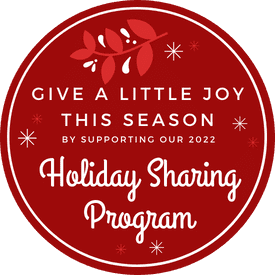 In lieu of a monetary donation, you can donate in-kind gifts – those of goods or services – to Teen Parent Connection.
For example, our Parents' Pantry remains stocked solely through the generosity of individuals and community groups. Our silent auction items and raffle baskets that help us raise money during our fundraisers are thanks to the donations of local businesses, restaurants, entertainment venues, and individuals. Hot meals provided by individuals to our group services are also considered in-kind gifts.
Our Holiday Sharing Program offers another way to donate in-kind gifts to Teen Parent Connection. Now through December 9, 2022, we are accepting brand new gifts for young families in need. Through this program, young parents have the opportunity to earn "Holiday Bucks" which they can use to "purchase" toys and gifts for their children and family. Visit our Holiday Sharing Program page to learn more.
EXAMPLES OF IN-KIND GIVING
Raffle basket donations for our Festival of Friends event
Diapers, wipes, formula, jarred baby food, and other Parents' Pantry supplies
Silent auction items for our spring fundraising event
Event items
Books for the children of participants
Download our in-kind donation form here or contact (630) 790-8433 Ext. 232 to discuss how you can support Teen Parent Connection through a donation of goods or services.