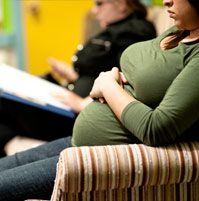 Are you expecting a baby or have a young child?  Balancing school, work and a baby keeps you very busy and doesn't leave you a lot of time for yourself.
Because pregnancy and babies don't come with an instruction book, it is absolutely normal to have a lot of questions.
Teen Parent Connection offers various programs and services to help you succeed as a young parent.  Whether you are looking for individual assistance or group support, Teen Parent Connection has a program for you.
"I have real goals that I see happening.  I've gotten a car, my GED, a better job, and have a better outlook on life.  I know I'm not alone, and my story is not the worst, and no matter what, there's always someone at Teen Parent Connection to turn to." – ­Teen Parent Connection Participant
Hear from current participant Tatyana and past participant Dora: