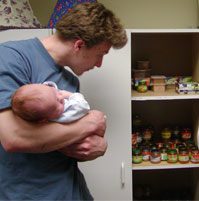 Need diapers or wipes? The Parents' Pantry is a place where Teen Parent Connection participants can shop for baby and personal items. You can earn Baby Bucks by attending Teen Parent Connection meetings, keeping up with your child's immunizations, attending school, etc. You can then "spend" your Baby Bucks in the pantry in exchange for wipes, diapers, formula, baby clothes and personal hygiene products.
Parents' Pantry Hours:
Thursdays: 3:00-6:00 PM
Every 3rd Saturday of month: 11:00 AM -1:00 PM
For more information about donating to the Parents' Pantry or hosting a pantry drive, please contact Lisa Cahill at (630)790-8433 ext. 233 or by email at lisac@teenparentconnection.org.