You have the opportunity to invest in a young family's success today…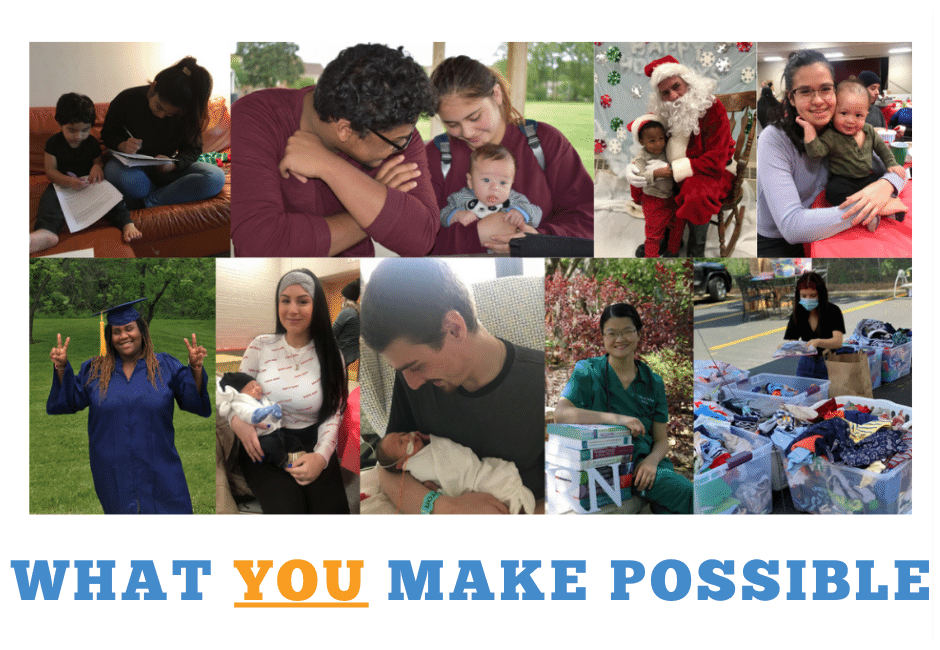 Every gift, large or small, makes a powerful difference in the life of a teen parent and their child!

$10 allows one high school student to hear an 18-year-old mom share her story of pregnancy and parenting.
$25 will supply a young family with enough baby food for one week.
$60 allows a teen mom or dad to attend 2 weeks of parenting education and support meetings, where they can share a nutritious meal and find commonality with their peers.
$100 ensures a baby has clean diapers for one month. On average, an infant requires 8-10 diaper changes per day – that's 250 diapers a month.
$250 awards a scholarship to a teenage mom or dad so they can complete their GED or receive college financial aid.
$3,000 means a young mother and her child will receive weekly home visits from a Family Support Specialist for one year.
$7,000 means one young mother and her child receive the benefits of all of our programs: Childbirth Education Classes, the support of a Doula, weekly intensive home visitation, and Group Services for a full year.

Donor Privacy Statement
Donor Privacy Statement: Teen Parent Connection respects your privacy and is committed to protecting the privacy of our donors. We hold all donor information in strict confidence and will not sell or share any donor information to any other party. We will only use your information to contact you regarding your donation, update you on our progress, and to inform you of any upcoming events or fundraising campaigns. Your name will be taken off any and all internal lists if you provide such a written request.
Teen Parent Connection does publish an annual report that may include the names of individual donors, partner organizations, and government entities that contributed funds during the previous year. The report does not include detailed information, but may report on general levels of giving. If you choose, we will not put your name or your organization's name in our annual report.
Links: This web site contains links to other sites. Please be aware that Teen Parent Connection is not responsible for the privacy practices of such other sites. We encourage our users to be aware when they leave our site and to read the privacy statements of each and every web site that collects personally identifiable information. This privacy statement applies solely to information collected by this web site.
Changes to the Policy: Teen Parent Connection periodically reviews and updates our policy for communicating with you via occasional email updates. We will post any updates about that policy on our website.
Teen Parent Connection is proud to be recognized as a Four Star Charity by Charity Navigator.