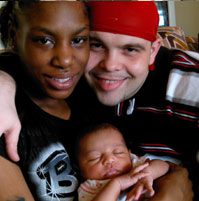 The Healthy Families program is a nationally recognized evidence-based home visiting program model. Program goals include promoting positive parenting, enhancing child health and development, and empowering parents to reach their fullest potential. By providing services in the home, the Healthy Families program is able to connect overburdened families with guidance, information and support in order to help mothers and fathers be the best parents they can be.
Teen Parent Connection offers the Healthy Families program to eligible parents between the ages of 12 and 19 years old. Visits may begin prenatally or within the first three months of the infant's birth and may last until the child is five years of age. Services are free of charge, and voluntary.
Teen Parent Connection recognizes that a new baby may be both a welcome addition and a stressful time in a family's life, and that every parent has common questions about their child and their new role as a mom or dad. Extensively trained home visitors take the time to get to know each family and provide support that is specific to the needs of the family. Home visitors are able to cover a large variety of topics in home visits, some of these may include:
How to soothe a crying baby
Appropriate nutrition for infants and children
Promoting healthy child development through completing regular developmental screens
Providing fun and interactive activities that encourage parent/child bonding
Creating a safe home environment
Age appropriate discipline
Immunizations and Well-Child Check-ups
Self-Care and Relaxation for parents
Individualized goal setting
Resources – home visitors are able to connect families with food assistance, clothing, affordable housing, medical care, transportation, education and employment, etc.
The Healthy Families model is based on years of experience and evidence. To ensure quality programming, the Healthy Families model follows 12 Critical Elements which are founded in over 30 years of research. Teen Parent Connection has completed the rigorous quality assurance process that is based on these 12 Critical Elements and has achieved a four year accreditation.
For more information on Teen Parent Connection's Healthy Families Program, contact us at info@teenparentconnection.org or call 630.790.8433.