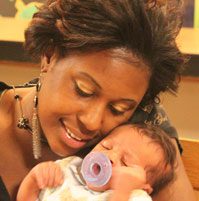 Doula is a Greek word referring to an experienced woman who supports and nurtures other women throughout their pregnancy, labor and delivery and immediate post-partum.
The Doula Program is an intensive home visiting service that provides education and support to expectant parents.  A doula will provide weekly education-based home visits covering a variety of labor, delivery, prenatal, and postpartum topics.
These May include:
The developing baby
Prenatal health and wellness
Labor and delivery
Stress management
Newborn care
A doula may also be present during the labor process to provide emotional support, information, and physical comfort measures while serving as an advocate.  The Doula Program strives to educate families on the realities of pregnancy and nurture a thoughtful birth plan developed with each family on an individual basis.   Teen Parent Connection recognizes that the labor and delivery experience is different for every family, therefore doulas are extensively trained and devoted to providing specialized curriculum, discussion, and home-visit structure to meet the individual needs of each participant served.
Teen Parent Connection offers the Doula Program to DuPage County residents ages 22 and younger, who are at least 22 weeks pregnant.  Services are free of charge and voluntary.
Prenatal Group
Teen Parent Connection's Prenatal Groups are held in eight-week sessions and are facilitated by agency Doulas. The groups allow young parents to come together in a supportive environment to learn about their changing bodies, healthy prenatal lifestyles, and what to expect as they prepare to welcome a baby into their lives.
Childbirth Education Classes
Teen Parent Connection's experienced staff members are dedicated to educating expectant young parents on the importance of maintaining good overall health during pregnancy. Childbirth Education Class is Doula-led and provides an opportunity for pregnant teens and support partners to learn more about pregnancy, labor, and delivery. Together, staff members and participants create and maintain a safe and warm environment in which to discuss self-care and prenatal health strategies. Childbirth Education Classes cover a variety of topics which may include:
Prenatal care
Prenatal nutrition
Signs/stages of labor
Comfort measures
Unique birthing choices
Teen Parent Connection recognizes the importance of social and emotional support during pregnancy and parenting, and Childbirth Education Class offers expectant moms and dads the opportunity to build relationships with other soon-to-be-parents. Classes are offered free of charge and are held in eight-week sessions.
For more information on Teen Parent Connection's Doula Program or Childbirth Education Class, contact us at info@teenparentconnection.org or call 630.790.8433.